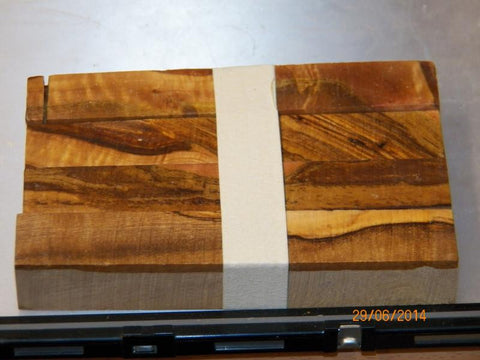 Australian #55N Wild Mulberry tree wood - PEN blanks raw -Sold in packs
Australian #55N Wild Mulberry tree wood - PEN blanks raw
Sold in packs of 4 blanks
Blanks 

size of approx 20mm square X 130mm long
230gr. Pack x 4 blanks
NOTE: This listing doesn't offer pack(s) choices, blanks/packs are too identical to require such method so, simply select 

"Add to cart"

 and then select the number of packs you want, on the "quantity" window.
These blanks were processed from a species of Mulberry that I had never seen before, while common Mulberry trees produce fruit, these one don't.
Very bushy and tangled if left grow freely, as the case with these ones that were planted over 30 years ago as a privacy and earth retaining bushes that endup growing into trees of a fair height (about 6 meters).
A lot of them were dead and were making the place look pretty messy so, I got the permission to cut a fair area and clean the place out in exchange for the wood.
The wife Merissa and I, got out arms ripped to pieces from these sharp bushes, they were as bad as blackberries bushes, the dry branches were very sharp and strong, wouldn't break that easy, springing back at us like wips...!
Fortunately for us, the wood didn't disappoint...!
Thank you for visiting...!
---
We Also Recommend
---